New Lawn Installation Deltona, FL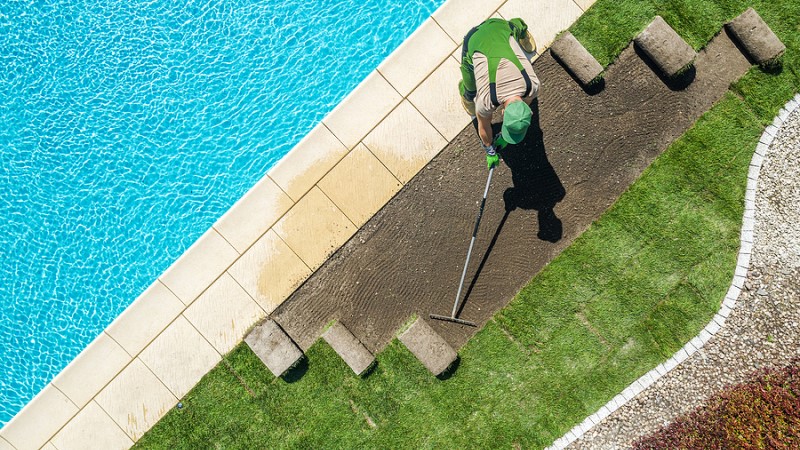 New Lawn Installations Using Seed Or Sod
If you want a beautiful lawn – we can do that!
Have you just built a new home and now want the property graded and a front and back lawn installed?  Do you have an existing lawn that has been neglected and you're tired of looking at the patchy, brown eyesore on your property?  Are you hosting an important event at your property and you want your lawn to look great?  There is a lot to know about getting grass to properly take root and grow into a healthy, vibrant, lush green lawn.  It's not as simple as just laying down sod or throwing out some grass seed.  There is a specific process that must be followed if you want the lawn to look amazing.
Why Do You Need A New Lawn Installed?
Do you need a new lawn for a new construction project?
Are you trying to renovate an existing lawn that is in poor shape?
Do you want to improve your properties appearance and curb appeal?
Are you embarrassed about your lawn compared to your neighbors?
Do you have an important event coming up and you want a beautiful lawn?
Tree of Life Landscape and Design is a landscaping contractor based out of Deltona, Florida and serving Volusia County and the surrounding area.  We specialize in installing new lawns for our residential and commercial clients using grass seed or installing new sod.  From grading your property and lawn area for proper drainage, and preparing your lawn area with proper loam soil, organizing  the installation of irrigation or sprinkler systems, and spreading the grass seed or rolling out sod we can provide you with a beautiful looking new lawn.
For our clients that care about their lawn and always want it too look it's best we also offer regular weekly lawn care services including mowing and seasonal fertilizing and weed control.
Should You Use Seed Or Sod For Your New Lawn?
This is a question our customers who want a new lawn area often ask us!  The answer really depends on three things:
 How will the new lawn area be used?
 What is your overall budget?
 Are you under a time constraint?
If you have kids or pets that frequently use and enjoy your lawn area then keeping them off the newly seeded area could be a problem.  If that's the case, sod is usually a better option but installing sod is more expensive than traditional grass seed.  With a new sod lawn you're going to have a green lawn within a day or two and an even more beautiful lawn within a week or two of the installation.  It will look like beautiful grass from day one but you'll still see the visible lines from the sod being rolled out.  It takes a week or two for the grass to blend sufficiently so you won't notice it.  With grass seed you're looking at several weeks until you have a beautiful lawn and in many cases it's still not really any cheaper as you need to spend more time final grading a property for grass seed as it's a lot less forgiving than sod!
If you're on a time constraint, let's say you're hosting a big party or a special event like a wedding on your property and you need it to look amazing for the big day, then sod is a much better, predictable option.
How Our New Lawn Installation Process Works
We've installed dozens and dozens of new lawns for new homes and property development in Deltona, FL and we are happy to get your new lawn installed properly.
We start with our initial consultation and taking accurate measurements of your property.
We assess the existing soil conditions and take note of any grading or drainage issues.
We can install any required drainage and handle final grading.
We will bring in proper loam soil and spread as needed to ensure a uniform and level surface.
We can arrange to have irrigation and sprinklers installed at the same time if you like.
We then spread out your grass seed or roll out sod.
The end result is a beautiful, lush green lawn!
For most average sized lawns this entire process can be completed in just 1-3 days.  For much larger residential lawns on estate properties or acreages or commercial properties the process can take longer but the end result is exactly the same.  You're going to end up with a beautiful, lush green lawn.
If you'd like to schedule a consultation with us to discuss your new lawn installation with seed or sod we'd be happy to meet with you.  Please call (407) 506-8339 or fill out our online form and we'll get right back to you.