Retaining Wall Construction Deltona, FL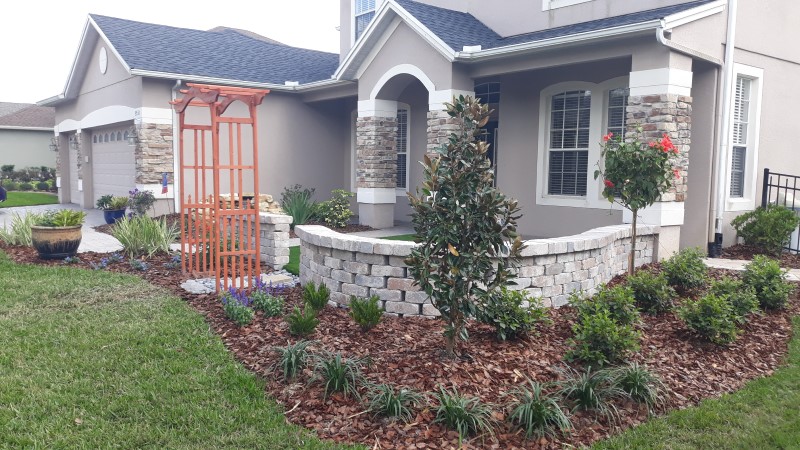 Retaining Wall Builder Deltona, FL
We building beautiful and functional retaining walls.
Retaining walls are a great addition to any landscape, especially if your property has an existing slope.  Building a retaining wall allows you reclaim some of that lost space by carving out usable outdoor spaces on sloping ground that would otherwise not be usable.  Retaining walls can hold back earth and soil which helps to create new level areas for the construction of a new garden bed, a new lawn, a patio or outdoor cooking area, a parking area, and more.  Retaining walls can be built using a variety of materials including rock, brick, block, boulders, or even wood.
Why Do You Need A Retaining Wall On Your Property?
Do you need to prevent soil erosion on your property?
Do you have an existing retaining wall that has failed and needs repair or rebuilt?
Do you have a sloped property you'd like to landscape?
Do you want to create a new outdoor living space?
Do you want some raised garden beds around your home or property?
Tree of Life Landscape and Design is a landscaping contractor based out of Deltona, Florida and serving Volusia County and the surrounding area. We specialize in designing and building functional retaining walls for property owners looking to landscape their naturally sloped property.  From a 30′ foot long stacked block retaining wall to hold back earth around the edge of your home to larger, more complicated, retaining walls for your terraced property.  The team at Tree of Life Landscape and Design will be able to provide you with a retaining wall solution that will benefit your specific property.
Retaining Walls & Building Permits in Deltona, FL
In most of Volusia County (your municipality could be different) retaining walls that are under 3 feet in height generally do not require permits or design plans.  There are some specifics that may or may not apply to your situation.  If the retaining wall is 3 feet in height or over than a permit is generally required.  Any retaining walls over 6 feet in height will require a permit and additionally an engineered design to ensure the structure is sound.  This information does not account for any covenants that might be on your property.
When we view your property we'll be able to let you know any specific building codes that might apply to your circumstance depending on the height/length of your wall and what it's specifically being installed for and whatever surcharges (weight) might be applied to the soil above and behind the wall.
Proper Drainage For Your Retaining Wall
We are often contacted by potential customers who have an existing retaining wall that has failed, it's either falling down, bulging, or collapsing.  One of the most common reasons for retaining wall failure is that the original wall was built with poor drainage in place.  Retaining walls are designed to hold back earth from erosion.  This also makes them excellent at holding back water too.  The water that builds up behind a retaining wall is referred to in the industry as "hydrostatic pressure" and the external force of the soil or fill held behind your retaining wall coupled with the weight of the water held behind it is often enough to seriously compromise the integrity of your wall which can lead to failures such as bulging and even a total collapse.
Any well-built retaining wall must incorporate good drainage if it's going to last for many years.  Depending on the type of material being used to build your retaining wall there are a variety of ways to integrate sufficient drainage such as lateral drains, french drains, weeping drains, blanket drains and also the use of very granular soil or fill behind the wall can also to disperse rather than hold the water.
What Materials Do We Use For Retaining Walls?
There are many different materials to build your retaining wall out of.  Below are some of the more popular materials in our area because of their availability.
Block retaining walls
Timber retaining walls
Fieldstone retaining walls
Brick retaining walls
Natural stone retaining walls
How Our Retaining Wall Construction Process Works
When building a retaining wall on your property that is designed to hold back soil and earth from erosion there is very little margin for error so when required we work directly with engineers if your wall is over 6 feet in height.  There are many pre-engineered systems we can use as well that can eliminate the need for detailed building plans.
We start with our initial consultation.
We determine how many feet of retaining wall you need.
We determine the height of the wall and if a building permit or engineer will be required.
We take into account any surcharges (weight) the wall might be exposed to.
We consult with you on the materials you'd like your retaining built with.
We'll provide you with an accurate written estimate for the work.
The amount of work required to build a retaining wall can vary widely from project to project.  The slope of your property, the amount of earth your retaining wall must hold back and the overall accessibility of your property will all contribute to the final cost.  We'll be able to offer you an accurate estimate only after a site visit.
If you'd like to schedule a consultation for your retaining wall construction project please give us a call (407) 506-8339 or fill out our online contact form and we'll get back to you right away.